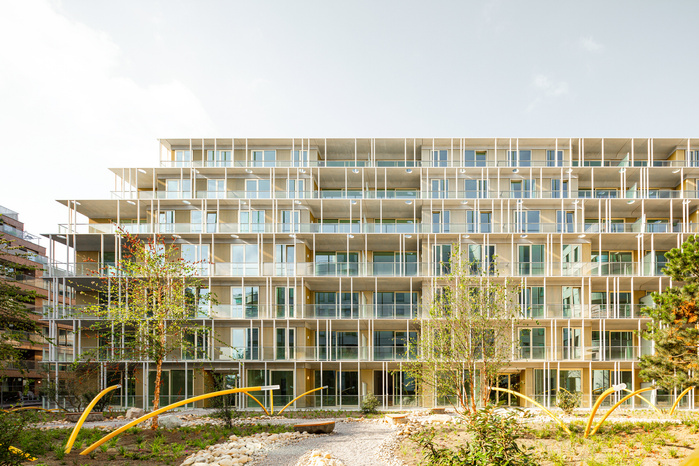 Centrally located in Overhoeks Amsterdam, this building by Orange Architects called 'The Line', is orientated in all directions, with the same vibrant appearance on all sides. Set on top of an underground car park, the building is slightly elevated from street level, giving the volume a delicate feel. The upper floors are set back slightly, allowing for sufficient daylight at street level.
The Line is located in the Overhoeks development area on the north bank of the River IJ, opposite Amsterdam Central Station. The area is a vibrant living and working district located close to urban functions and the city centre. Buildings and urban greenery in the area alternate in a campus-like setting, providing an attractive, varied living environment.Spacious outdoor spaces are designed as continuous verandas. The outdoor spaces are vertically connected by a screen of delicate columns that wrap the main volume like a veil.
A composition of continuous horizontal and vertically staggered lines, the framework is made of high-performance concrete, which makes very thin elements possible. The apartment facades behind are clad with vertical aluminium profiles with a gold-coloured finish.
All apartments are accessed from three cores, reached from spacious entrance hallways and finished with oak wood slats. The building contains a wide variety of apartments determined by their position within the building.