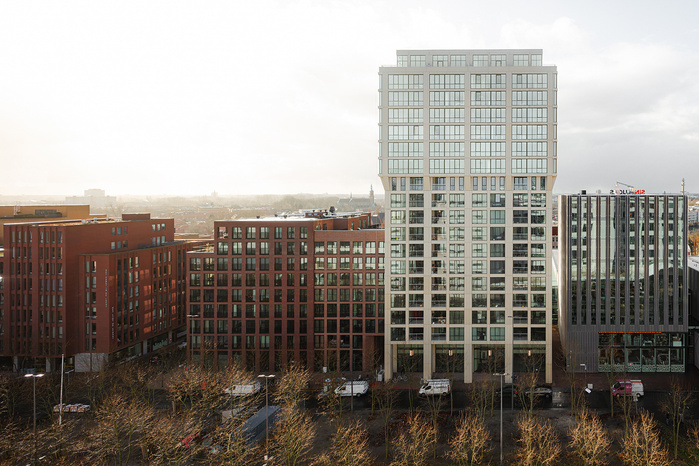 S-West is located in the heart of the former Philips site known as Strijp-S. The plan consists of an ensemble of four buildings on a half-sunken car park with a roof garden. The buildings all have a character of their own, and together they subtly acknowledge the area's industrial past.
A striking tower on the urban Torenallee, with a cantilevered head, slightly protrudes from the building line in the form of a two-level colonnade. The 18-floor tower, called 'Frits', is classically composed of a plinth, body and crown, yet it also echoes the architecture and tectonics of a concrete silo building with its vertical emphasis.
Next to the tower is a hefty and tiered corner block called 'Frederik', which references the archetypical early industrial architecture: urban structures with iron escape stairs and balconies as functional ornaments.
The third block is a linear and more graceful block called 'Maria'. The building, which steps back on the south side, is faced in mouse-grey hammered hand-moulded brickwork with brushed joints.
The architecture of 'Benjamin' echoes industrial structures and is faced in expanses of 65-mm-tall ochre-yellow brickwork that are cut horizontally by balconies, terraces and galleries, calling to mind loading platforms, and are connected by a concrete band.