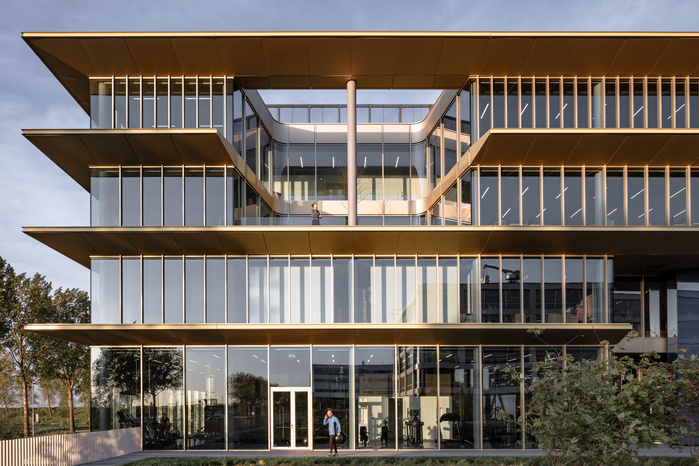 Asics Elegance
The new European Asics HQ by Powerhouse Company is more than a workplace: it is a destination for local and international employees, product buyers and visitors to celebrate the ASICS legacy and shape its future.
From the outside, the building is characterized by an elegant geometric clarity. The full-perimeter overhangs, whose main function is sheltering the workspace from direct sunlight, create the distinctive horizontality of the facade. The presence of a double-height transparency on one side and a recess with a green terrace on the other breaks the symmetrical composition of the simple horizontal overhangs and central position of the entrance.
The atrium combines the informal quality of a gathering space with the public prominence of an exhibition space. The full-height space is filled with natural light through the glazed ceiling and is surrounded on four sides by the balconies of workspace floors. A playful system of staircases connects the different levels around the atrium, breaking the horizontal continuity of the floors.
At the heart of the atrium lies 'ASICS World', a unique and three-dimensional showcase that displays all ASICS brands. It is surrounded by an array of functions including a restaurant, Power Health Bar, the ASICS gym and an ASICS store. The future-proof design features an efficient and flexible layout to optimally support various types of work, geared towards innovation and collaboration.