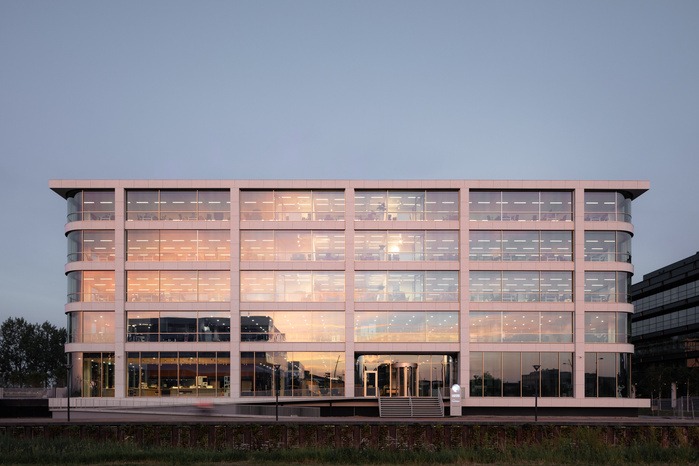 Danone, designed by Powerhouse Company and developed by RED Company, has opened the doors of its new office in Hoofddorp. Located in the Amsterdam metropolitan area, the office will serve as the new headquarters for Early Life Nutrition and Advanced Medical Nutrition. With its focus on sustainability and health, the new building gives shape to the belief that the health of the planet and people are interconnected.
The office building is located near the historical monument of the Amsterdam Defense Line, listed as Unesco World Heritage since 1996. The exterior aspect of the building, with its clean lines and transparent character, was designed to match this special context. A grid of light-colored Terrazzo cladding frames the large openings. The transition from the building to the natural surrounding is mediated by the rounded corners of the building volume, that soften the geometric grid of the facade.
The interior of the building is shaped around a spacious atrium adjacent to the garden. A glass roof, together with the transparent facade, floods the space with natural light all the way through the ground floor. The atrium features the building's 'green lung,' a spectacular 20-meter-high wall covered with plants, visible from all the balconies of the four floors that embrace the spacious void. On the southwest side of the atrium, visitors are led to the first floor through a large staircase, a volumetric element that defines the space and the grand start of the walking route throughout the whole building.