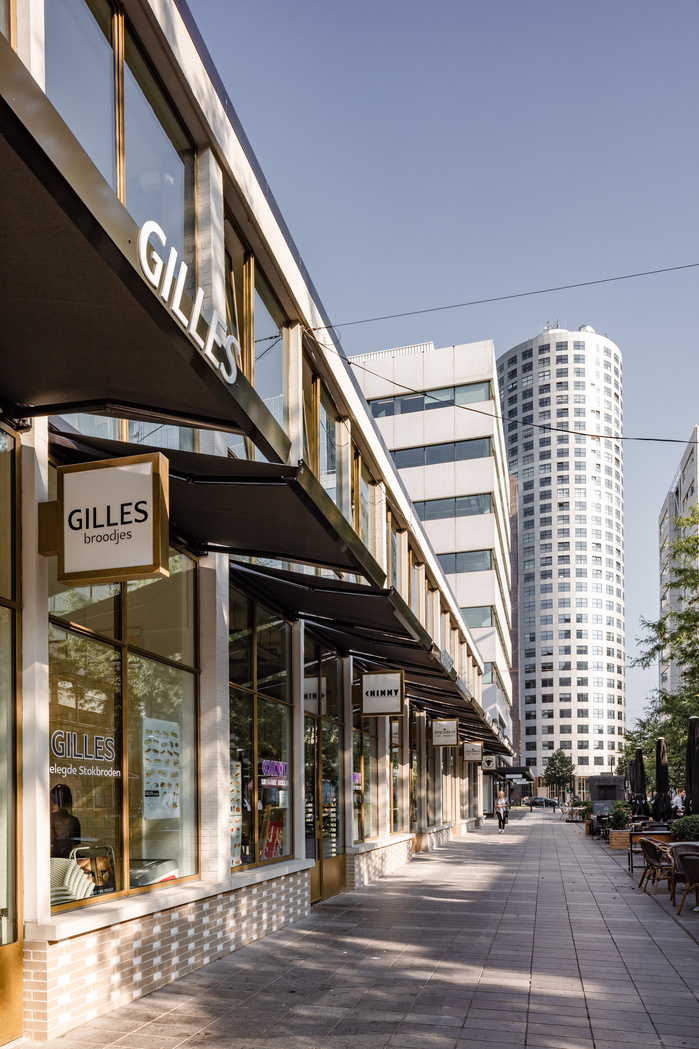 The powerful qualities of the postwar architecture of Rotterdam have been emphasized and celebrated in the façade renovation of Lijnbaan 35-43 by upcoming local hero Marjolein van Eig of Bureau van Eig.
The block consists of five retail properties in a two-layer volume and is located in the first part of the Lijnbaan. The property belongs to the shopping area but it is not part of the world famous national monument. The facade is part of the Lumière complex, with the former Lumière cinema on the corner, rebuilt at the beginning of the century.
The existing vertical brick-and-concrete pegs give the facade a nice relief. They have been extended to the ground floor, making the vertical articulation stronger. The configuration leans on a new masonry plinth with a thick concrete water hammer.
The new steel frames have slender profiles, similar to the old ones. The profiles are finished with cold-sprayed brass treated with acids, giving it a nice and warm patina shine combining well with concrete and brick.
The city of Rotterdam has a rich collection of postwar architecture from the 1950s. Brutal stone buildings adorn streets such as the Coolsingel and Blaak. The project strenghtens the sense of place and reinforces the present typical Rotterdam qualities in a 'new' architecture.